Fremont County Attorney's Office
Welcome to the Fremont County Attorney's Office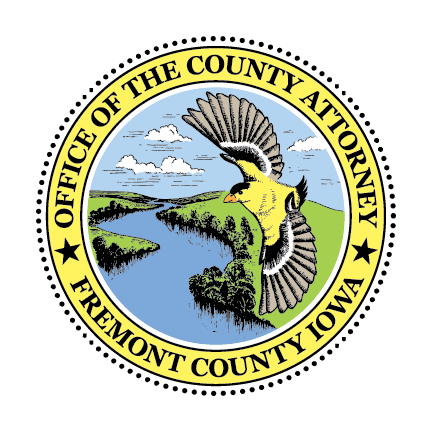 Peter Johnson,
Fremont County Attorney
Email: pjohnson@co.fremont.ia.us

Address:
506 Filmore Street, P.O. Box 476
Sidney, Iowa 51652


---
Hours of Operation:
Monday - Friday
8:00 a.m. to 4:30 p.m.
2023 Holiday Schedule
Fremont County Attorney's Office Payment Plan Form
The County Attorney's position is unique in that it is provided for in the state constitution. Other offices are products of legislation. The attorney's primary responsibilities are to provide legal counsel for the board of supervisors, elected county officials, department heads, and to act as legal representative for the county in court cases. In cases where a crime has been committed in the county, he/she acts as the prosecuting attorney and presents the county's case at the trial. The county attorney is also responsible for juvenile justice which includes delinquency, abuse, and child neglect cases.
If you are a defendant who is not represented by an attorney and wish to make contact with our office regarding your case, you must obtain Court approval prior to contacting the Fremont County Attorney's Office. Those charged with traffic offenses and simple misdemeanors (STA, NTA, or SMMG case numbers) may contact the Court at (712) 374-2231 on Tuesdays and Thursdays between 9:00 am and 2:30 pm. Those charged in the Fremont County District Court (SRCR, AGCR, or FECR case numbers) may contact the Court on Mondays at 1:30 pm in the Fremont County Courthouse or at (712) 374-2131.
Duties of the Fremont County Attorney
The responsibilities of the County Attorney are prosecuting violations of the laws of the State of Iowa,
and of County Ordinances.The County Attorney is also the legal advisor for Fremont County.
Office
The Fremont County Attorney's Office is on the Second Floor, North Side, of the Courthouse in Sidney, Iowa
The County Attorney DOES:

■ Prosecute all violations of state criminal laws and county ordinances.
■ Provide legal advice to the Board of Supervisors, county, and township officers concerning county matters.
■ Represent and defend the state, county, and its officers in officially related cases.
■ Present all mental health commitment proceedings and all juvenile delinquency and child in need of
assistance cases.
The County Attorney DOES NOT:
■ Give legal advice to or represent private groups or persons.
■ File lawsuits for private persons or defend them against lawsuits, including actions for dissolution of marriage.
■ Prepare wills, deeds or other legal documents for private individuals.
Victim of a crime?
The Fremont County Victim Witness Assistance Program staff is dedicated to helping victims and witnesses through the
criminal justice system by providing as much information, convenience, and courtesy as possible. We are committed to
providing the following services to you:
■ Explanations of the criminal justice process and court procedures
■ Notifications concerning upcoming court hearings, trials, plea negotiations, and case results
■ Assistance in recovering financial losses and other crime related expenses, which are not covered by
insurance
■ Information and referrals for victim-offender conferencing, mediation, counseling, and other community
resources
■ Provide documentation for victim impact statements and other relevant court documents
■ Address safety concerns
■ Information and references concerning crime victims' rights in Iowa
You can Visit our Victim Witness Services Site Here.
Looking for Legal Advice?
Links of Interest:

Bad Check Information Iowa Judicial Small Claims Forms Iowa Attorney General
IowaVINE Iowa Sex Offender Registry Iowa District Court OnIine Search
www.missingkids.com Iowa Alliance for Drug Endangered Children

www.cybertipline.com National Missing and Unidentified Persons System (NAMUS)